Artist Profile: Ivan Puig and Andrés Padilla Domene
We interviewed the artists whose journeys across abandoned railways led them to the notion of modern ruins
By Patricia Hallam on November 6th 2014
SEFT is an acronym for the Spanish Sonda de Exploración Ferroviaria Tripulada (Manned Railway Exploration Probe). Designed to hijack rail tracks and traverse natural landscapes, the vehicle functions as a research device searching for otherworldly pasts and infrastructure histories. Its early adventures include journeys along the abandoned railways of Mexico and Ecuador.
This year SEFT-1 re-visited the UK for their first London exhibition: SEFT-1 Abandoned Railways Exploration Probe: Modern Ruins 1:220 - a collaboration with Furtherfield and The Arts Catalyst. The artists invited British expert model railway constructors to collaborate by creating scale reproductions of specific Mexican railway ruins, originally built by British companies, exactly as they are now.
We were lucky enough to interview the duo behind it all and asked them about their influences, methodologies, and the future of SEFT-1:
Who are Ivan Puig and Andrés Padilla Domene? And to what extent have your personal circumstances influenced your recent research and artistic practices?
Ivan: We are brothers, born in Guadalajara México. I studied electronics and fine arts and have always been interested in exploring different techniques and disciplines for creation. I am passionate about industrial and car junkyards, and workshops.
Andrés: I studied media arts, video has been my main way of living and creating. I've always been interested in technology's possibilities for communication. I'm also very interested in research, field and archive work.
What are your artistic backgrounds, and what's determined your choices in process and medium?
Ivan: What I did in terms of art studies was pretty academic; my degree is in etching and engraving. It was through curiosity that I started to experiment in a self taught way. My medium therefore obeys to the specific needs of each project. Process is quite complex, from the beginning of an idea or a question through the final result. It depends on so many elements that it is hard to say that there is a method that I follow regarding art production.
Andrés: I grew up undecided if I should become an archaeologist or an astronaut, I studied something very different, but with SEFT-1 I could be both at the same time.
Could you tell us the story of SEFT-1 so far, and about your collaboration with Furtherfield and The Arts Catalyst who brought the project to London this year?
SEFT-1 started in 2006 in México. Our railway net was privatised in 1995, and suddenly after they cut off all passenger service, companies wanted to get the most of profit out of the deal and Mexican authorities allowed it. So we are offended by this act. Around 9,000 kilometres were abandoned. So we decided to make a research tool to explore these spaces and to meet the people still inhabiting those areas. We built a spacecraft capable to travel on roads and rails. The project resulted in a connection with so many lines of interest and research and the initial question went much further when we started to understand that the train was just the tool of the greater modern project that crossed the world, spreading the promises of progress and the future.
As an art project we have been invited to show the results in many venues in different countries, while doing this we met The Arts Catalyst and they became enthusiast about taking the project to the UK. Last year they presented SEFT-1 in AND Festival (Abandon Normal Devices) at FACT in Liverpool. This year they partnered with Furtherfield Gallery in London.
One of the most intriguing things to us about the project in Mexico and Ecuador and the UK is how you applied different disciplines, combining design, engineering and science with ethnographical research, to reach people. You used the visual mystery of SEFT-1 as a tool to connect with rural communities and collect stories. Can you tell us more about the people you've met, what you learned, and the legacy that SEFT-1 has created in communities along the way?
We tried at all times to engage with people and create a network of stories and questions along the communities that we visited. We travelled a lot, visited hundreds of people and places, the core result of this experience is included on the website of the project. What we have learned from this project is huge. At the beginning we were looking for answers about the train subject but the deeper we got, the more we understood that it was the modern project itself underlying everything.
Regarding the repercussions of the project in the communities, we are sure it has impacted the imaginations of people in a big way. That is something hard to measure or have a record about. In a more concrete way, we witnessed a couple of moments where SEFT-1 served as a catalyst for local people to start discussing about restoring their tracks and operate them on their own.
Was it your initial intention for the project to evolve in the ethnographical direction that it has, or was this element an afterthought, developed once you'd seen how effective SEFT-1 was as a tool to bring art directly to the public and to engage with them?
We have been interested in the social construction and the common good as a main priority. So when the SEFT-1 time came, it was very natural the way the project included this interests.
This project made us wonder about the possibility of bringing SEFT-1 to the UK again, to tour disused railways through post industrial towns and cities. Have you explored this option? Are there regulations stopping that idea?
The context in UK regarding the railroads is quite different form Latin America's; therefore we could not do the same approach to an exploration there. Even though we studied the possibility of travelling over a short stretch, it was impossible due to high regulations regarding both, rails and roads.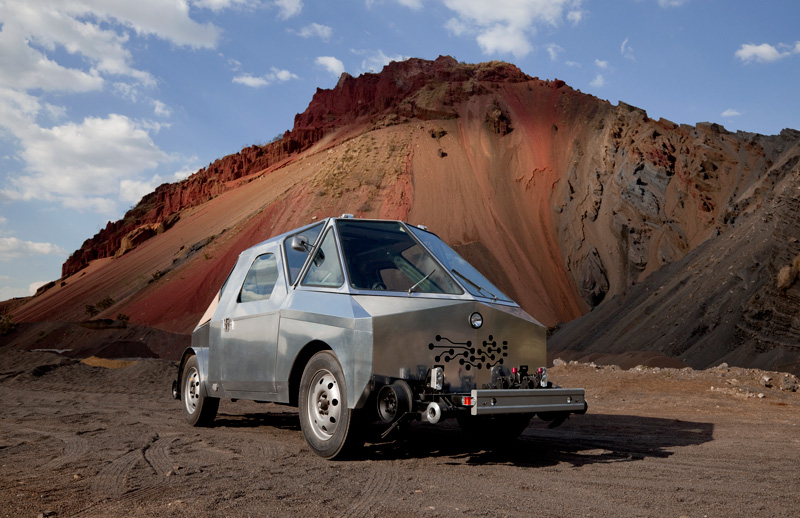 What's your opinion on the role of the artist today?
Ivan: To be honest I don't have great expectations on artist for its profession. But I do have an opinion on how all people shall be engaged and conscious of community and the environment. Huge powers are gaining control over all, and we need to be aware of it.
Andrés: I guess there are many different roles. In my experience working in the context of art makes it easy to link with other disciplines and subjects. I'm especially interested in collective work, teamwork and collaboration.
Do you think art and creative practice is important for everyone and why?
Ivan: I do think creative practice is fundamental for all disciplines; sciences, professions and every day life. It is an error to delegate it only to art.
Andrés: Everyone is creative. We live in a global culture that has homogenised our imaginations and approaches to things. I think this is something we should all fight against.
Do you read about art, philosophy, or critical theory? If so, which authors inspire you?
Ivan: the one I'm reading now is A Thousand Years of Nonlinear History by Manuel De Landa.
Andrés: I read in a very disordered way. Normally I consult books depending on what I'm interested about. Now I'm leafing through Bruno Latour's Aramis and Buckminster Fuller's Operation manual for spaceship Earth.
Are you involved in other creative or social activities like music, writing, activism, community organising?
Ivan: I have been helping some organisations like Avaaz, Amnesty International, COA, and recently I'm getting involved with SOP which is an NGO working on non controlled obsolescence certifications for industry. I'm part of TRiodO collective.
Andrés: I'm part of collective Astrovandalistas. Our work centres on the subversion of technology to disrupt hegemonic practices on the public space. We work with low budget technologies, and we give workshops.
Will you continue to work collaboratively and how do you expect the project to evolve?
Regarding the SEFT-1 we will continue exhibiting the results of the research as much as possible, and that seems to be a lifetime work. Every time we show the project we try to make some specific actions or pieces in order to contextualise it. In this way we keep it alive and ever changing. This gives us enough enthusiasm to keep doing it.
Check the project website to find out more about SEFT-1.