A Festival of Algorithmic and Mechanical Movement, taking place in Sheffield UK 12-20th November 2016 including performances, talks and hands-on workshops.
By Abdullah Al-wali on November 17th 2016
An Algorave is a party where electronic music is generated live from algorithms. The word was coined around 2012, initially as a joke, but has since taken hold with Algoraves taking place in over 40 cities around the world. There have been 23 algoraves already during 2016, and nine more still to come, in Detroit (10 Nov), London (17 Nov), Sheffield (18 Nov), Karlsruhe (19 Nov), Manchester (20 Nov), Bristol (26 Nov), Birmingham (3 Dec) and Berlin (9 Dec).
Algorithmic music has developed over decades, largely behind closed doors - in bedroom studios and research labs. Nonetheless, many influential musicians have worked with algorithms, such as Autechre, Aphex Twin and Laurie Spiegel. However, at an Algorave the creation of algorithms are brought into the experience of the music itself. This is done using specially made "Live Coding" environments such as SuperCollider, TidalCycles, Gibber, ixi lang and Extempore, which are all free to download and open source, with supportive communities around them on-line and off-line.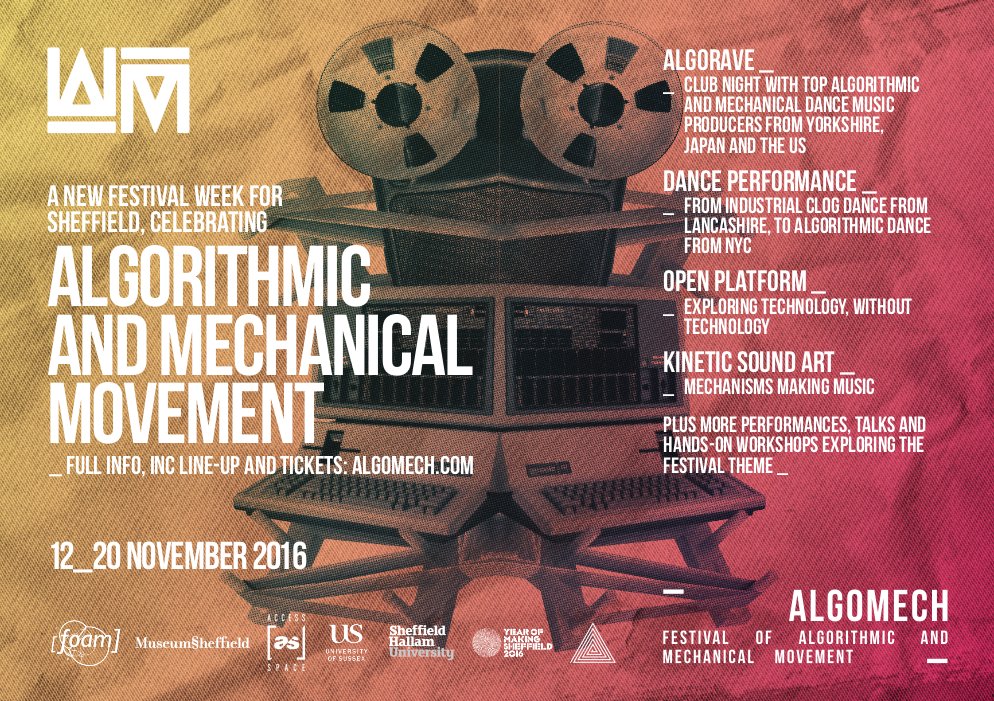 Live coding follows a growing trend of bringing liveness back into electronic music. Live coders work with their music by describing it using programming languages, treating their code as a live, creative material. They open up this process by projecting their screens around the venue, so audience members can see how the music they hear is being made. Most won't know the particular language being made, but this isn't the point - everyone can see the code grow in complexity with the music, and feel a connection with the human side of the technology at play. It isn't just music that is generated from algorithms, but visuals too - with artists such as Rituals, hellocatfood and Chez.io generating live visuals from code.
Algorave artists have been finding increasing support from record labels. Renick Bell has been developing the scene in Tokyo, while releasing well received music on labels UIQ and Halcyon Veil. Conditional Records have been promoting Algoraves in London as well releasing the work of leading artists such as Calum Gunn and Kindohm. Computer Club in Sheffield have also been collaborating on algorave events while releasing the work of algoraver Yaxu on novel formats such as bootable USB sticks and pocket computers that allow fans to mess with the algorithms behind the music. More traditionally, the German act Benoit and the Mandelbrots have released the first live coded vinyl album on Syff. On the 'pop' side of algorave, Lil Data on label PC Music has been dipping into the scene too, bringing live coding to large crowds. Up-and-coming act AlgoBabez have also been finding larger crowds, including headlining the algorave stage at BlueDot festival this Summer.
The algorave scene is far from dogmatic, and on 18th November in Sheffield, algoravers will team up with their opposite numbers in the world of mechanical techno. At AlgoMech (the Festival of Algorithmic and Mechanical Movement), musicians such as Graham Dunning and Ardisson will join an international lineup of algorave producers to introduce robots to the mix. AlgoMech-goers will be able to see both musical algorithms and musical mechanisms constructed before their eyes.
The Sheffield date will form part of a four-day tour with other major dates in London, Manchester and Karlsruhe, all featuring Renick Bell from Tokyo (UIQ / Halcyon Veil) and Kindohm from Minnesota (Conditional). Tonight in London, they'll be joining other leading Algorave artists from the UK along with generatively-minded friends for a night at the Amersham Arms, New Cross promoted by Conditional records. Live coding, modular synths and algorithmic DJ sets are on the cards with sets from Renick Bell, Kindohm, Joanne and en creux among the many highlights.